Historical Essay
33rd Wisconsin Infantry History
Wisconsin Civil War Regiment
Enlarge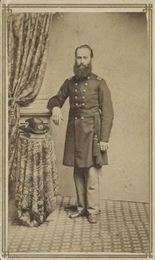 Dr. Christopher R. Blackall, 1860s ca.
Full-length carte-de-visite portrait of Dr. Christopher Ruby Blackall, 33rd Wisconsin Infantry, standing in his uniform with his hat on a pedestal. View the original source document: WHI 70940
The 33rd Wisconsin Infantry was organized at Camp Utley in Racine and mustered into service on October 18, 1862.
The regiment left Wisconsin for Memphis, Tennessee, on November 12. From Tennessee it moved through Mississippi, Arkansas, Missouri, and Louisiana.
The 33rd Wisconsin Infantry participated in the sieges of Jackson and Vicksburg, the Red River Campaign, the Battle of Nashville, the campaign against Mobile and its defenses, the siege of Spanish Fort and the capture of Fort Blakely. The regiment mustered out on August 8, 1865, after it had lost 202 men during service. Three officers and 30 enlisted men were killed. Two officers and 167 enlisted men died from disease.
[Estabrook, Charles E, ed. Records and sketches of military organizations: population, legislation, election and other statistics relating to Wisconsin in the period of the Civil War. (Madison, 1914?)]