Historical Essay
45th Wisconsin Infantry History
Wisconsin Civil War Regiment
Enlarge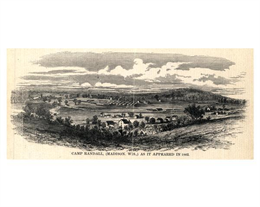 Camp Randall, 1862 ca.
Camp Randall looking southwest. In April 1861, Governor Alexander Randall asked that the State Agricultural Society fairgrounds be converted into a military camp to train volunteer soldiers following the outbreak of the Civil War. Throughout the war, the majority of Wisconsin's troops, some 70,000, were mustered her View the original source document: WHI 1875
The 45th Wisconsin Infantry was organized at Camp Randall in Madison on November 8, 1864. As companies were organized, they were ordered to Nashville, Tennessee, where, they fought in the Battle of Nashville and served on garrison and guard duty there until July 1865. The regiment mustered out on July 17, 1865. It lost 34 men during service, all from disease.
[Source: Estabrook, Charles E, ed. Records and sketches of military organizations: population, legislation, election and other statistics relating to Wisconsin in the period of the Civil War. (Madison, 1914?)]