Historical Essay
49th Wisconsin Infantry History
Wisconsin Civil War Regiment
Enlarge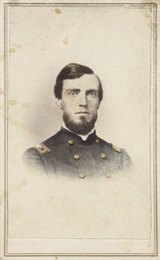 Revered Samuel Fellows, 1860s ca.
Hand-colored, vignetted carte-de-visite portrait of Reverend Samuel Fellows, 49th Wisconsin Infantry. View the original source document: WHI 70960
The 49th Wisconsin Infantry was organized at Camp Randall in Madison between December 24, 1864, and March 5, 1865.
It left the state for St. Louis, Missouri, on March 8, 1865, just a few weeks before the war ended. It moved to Rolla, Missouri, on March 13 where its services included garrison and guard duty until August. It then moved to St. Louis, where it mustered out on November 8, 1865.
The regiment lost 54 men during service, all from disease.
[Source: Estabrook, Charles E, ed. Records and sketches of military organizations: population, legislation, election and other statistics relating to Wisconsin in the period of the Civil War. (Madison, 1914?)]