Historical Essay
18th Wisconsin Infantry History
Wisconsin Civil War Regiment
Enlarge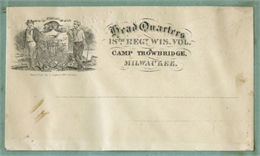 18th Wisconsin Infantry, 1860 ca.
Envelope sent from the headquarters of the 18th Wisconsin Infantry. The state seal of Wisconsin appears in the upper left corner. To the right reads: "Head Quarters 18th Reg. Wis. Vol, Camp Trowbridge, Milwaukee" On the flap on the back of the envelope is an American Eagle with a banner in his beak that reads "E Pluribus Unum". View the original source document: WHI 76823
The 18th Wisconsin Infantry was organized at Camp Trowbridge in Milwaukee and mustered into service on March 15, 1862. The regiment left Wisconsin for St. Louis, Missouri, on March 30, and then traveled to Pittsburg Landing, Tennessee, from March 31-April 5.
During the war it moved through Tennessee, Mississippi, Louisiana, Alabama, Maryland, the Carolinas, and Washington D.C. via Virginia. The regiment participated in the battles of Shiloh, Corinth, Iuka, Port Gibson, Champion Hill, and the Siege of Vicksburg.
In the fall of 1864 new recruits were attached to the 93rd Illinois Infantry Regiment from November 1864 until April 1865, and participated in Sherman's March to the Sea, the Siege of Savannah, the campaign of the Carolinas, and the Battle of Bentonville, North Carolina.
Veterans who re-enlisted in the fall of 1864 were ordered to Nashville, Tennessee, on December 28, 1864 and participated in the advance on Raleigh, North Carolina, and the surrender of the Confederate army. The regiment moved to Louisville, Kentucky, in June 1865, and there mustered out on July 18, 1865. The regiment lost 225 men during service. Four officers and 52 enlisted men were mortally wounded. Two officers and 167 enlisted men died from disease.
[Source: Estabrook, Charles E, ed. Records and sketches of military organizations: population, legislation, election and other statistics relating to Wisconsin in the period of the Civil War. (Madison, 1914?)]