Historical Essay
Indian schools in Wisconsin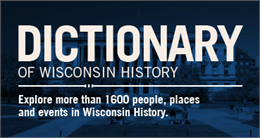 Indian schools were institutions established by whites to educate Indian children. Most tried to convert Indians into Christians or to replace traditional Native America languages and cultures with English and mainstream white culture.
Early Religious Schools
From 1661 to 1728, Jesuit missionaries taught Indian children. After they left Wisconsin, there is no record of Indian education by whites for nearly a century. The United States government began to encourage Indian schools after the War of 1812. By 1836, there were 10 Indian schools teaching 1,300 pupils in northern Wisconsin and Michigan's Upper Peninsula. Protestant missionaries taught schools for Menominee, Ojibwe, and Oneida children in Green Bay, 1829-1841, as well as among the Mohicans at Stockbridge, 1830-1848.
In the same region, Catholic missionaries opened schools among the Menominee as that nation moved from Green Bay to Lake Poygan and Keshena, 1830-1852. On Lake Superior, Protestant missionaries ran schools for Ojibwe children at LaPointe, Odanah, at Yellow Lake in Burnett County, and at Lac Court Oreilles during the years 1831-1854. Catholic missionaries also educated Indian children at LaPointe, 1835-1853.
Assimilation-Era Schools
Between 1887 and 1934, the federal government attempted to mainstream Indians through the policies of assimilation and allotment. These policies attempted to replace traditional Indian culture with the language, culture, and customs of white America. These schools were run by the United States government or by agencies and organizations on behalf of the government. Some operated as day schools while others were boarding schools. At the height of this era, the following schools taught Indian children in Wisconsin:
U.S. Government Boarding Schools in 1899:
- Menominee Boarding School at Keshena, with 170 students and 5 staff;
- Oneida Boarding School at Oneida, with 131 students and 5 staff, superintendents Charles F. Pierce 1893-1899 and Joseph C. Hart 1900-1906
- Lac du Flambeau Boarding School at Lac du Flambeau, with 150 students and 5 staff, superintendents, Reuben Perry 1896-1902, HenryJ. Phillips 1903-1905, and John Flinn 1906.
U.S. Government Day Schools in 1899:
- Stockbridge Day School, 8 miles west of Keshena, with 34 students and 1 teacher;
- Three day schools at Oneida, with 69 students in all and 1 teacher at each;
- Day schools with a total enrollment of 297 and 7 total staff were operated at Paquahawong (20 miles from Hayward), at the Red Cliff Reservation at Odanah, and at Lac Court d'Oreilles Reservation at Hayward (superintendent William A. Light 1903-1906).
Boarding Schools Run by Others for the U.S. Government in 1899:
- Tomah Industrial School at Tomah, with 150 students and 5 staff (est. 1891, opened 1893), superintendents, S.C. Sanborn 1892-1895, H.D.Arkwright 1896, and L.M. Compton 1897-1906;
- Wittenberg School at Wittenberg, with 140 students and 4 staff (est. 1886 by the Norwegian Evangelical Church of America, government oversight est. 1895), superintendents Axel Jacobsen 1894-1904 and S.A.M. Young 1905-1906.
- Winnebago Indian School (Black River Falls and Neillsville): opened in Dec. 1878 in a log cabin seven miles northwest of Black River Falls. Rev. Jacob Stucki (1857-1930) became its head in 1885; it became a boarding school during World War One with about 20 students, but in 1921 it was moved to Neillsville when Stucki's son, Rev. Ben Stucki (1893-1961), became superintendent. As late as 1931 it had more than 100 students aged 5 to 15. It survived until after World War Two.
[Sources: Smith, Alice E. From Exploration to Statehood (Madison, 1973),Statistics of Indian tribes... (Washington, 1899); Moranian, Suzanne Elizabeth "Ethnocide in the schoolhouse: missionary efforts to educate Indian youth in pre-reservation Wisconsin" Wisconsin Magazine Of History. Volume: 64 /Issue: 4 (1980-1981); Godfrey, Anthony. A Forestry History of Ten Wisconsin Indian Reservations... (Salt Lake City, 1996).]
Learn More
See more images, essays, newspapers and records about Indian Schools.

Dictionary of Wisconsin History
Explore more than 1,600 people, places and events in Wisconsin history.