Historical Essay
8th Wisconsin Light Artillery History
Wisconsin Civil War Regiment
Enlarge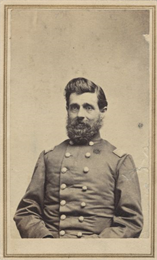 William P. Lyon.
Waist-up portrait of William Penn Lyon, a Wisconsin attorney, state legislator, and State Supreme Court justice (1871-1894). During the Civil War William P. Lyon enlisted as a captain in the 8th Wisconsin; in 1862 he was promoted to Colonel of the 13th Wisconsin. He left the army in 1865 with the brevet rank of brigadier general. View the original source document: WHI 96026
The 8th Wisconsin Light Artillery, also known as "Lyons' Pinery Battery," was organized at Racine and mustered into service on January 8, 1862. It was then ordered to St. Louis, Missouri, on March 18, eventually making its way to Fort Leavenworth, Kansas, by April 4, 1862.
From Kansas the battery moved through Tennessee, Mississippi, Kentucky, and Georgia. It participated in the battles of Corinth, Perryville, Stones River, and Chickamauga, as well as the Atlanta Campaign and the siege of Chattanooga. The battery mustered out on August 10, 1865. It lost 28 men during service. One officer and one enlisted man were killed. Twenty-six enlisted men died from disease.
[Source: Estabrook, Charles E, ed. Records and sketches of military organizations: population, legislation, election and other statistics relating to Wisconsin in the period of the Civil War. (Madison, 1914?)]