Historical Essay
11th Wisconsin Infantry History
Wisconsin Civil War Regiment
Enlarge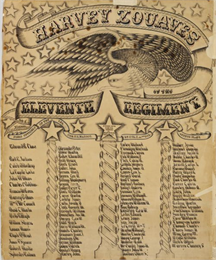 11th Wisconsin Infantry,
Civil War commemorative roster of Company F, 11th Wisconsin Infantry, Harvey Zouaves of the Eleventh Regiment. View the original source document: WHI 26996
The 11th Wisconsin Infantry was organized at Camp Randall in Madison and mustered into service on October 18, 1861. The regiment was ordered to St. Louis, Missouri, on November 19 and then to Sulphur Springs.
It served on duty there and by detachments along the Iron Mountain Railroad until March 1862. The regiment also served in Mississippi, Western Louisiana, and Texas. It participated in the Siege of Vicksburg, the Battle of Port Gibson, the Battle of Champion Hill, and the Siege of Jackson.
The regiment was veteranized January 1864, re-mustered February 13, 1864, and mustered out of service September 5, 1865. The regiment lost 373 men during service. Six officers and 80 enlisted men were killed or mortally wounded. Four officers and 253 enlisted men died from disease.
[Source: Estabrook, Charles E, ed. Records and sketches of military organizations: population, legislation, election and other statistics relating to Wisconsin in the period of the Civil War. (Madison, 1914?)]