Historical Essay
4th Wisconsin Cavalry History
Wisconsin Civil War Regiment
Enlarge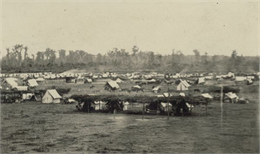 4th Wisconsin Cavalry Camp
The 4th Wisconsin Cavalry's camp. View the original source document: WHI 33529
The 4th Wisconsin Cavalry was originally organized at Racine as the 4th Wisconsin Infantry and mustered in on July 2, 1861. It moved to Baltimore, Maryland, July 15-22, 1861, then to Virginia en route to New Orleans, Louisiana.
As the 4th Wisconsin Infantry it fought at the Siege of Vicksburg, the battle of Port Hudson, and the occupation of Baton Rouge in 1862 and 1863. On September 1, 1863, it was reconstituted as the 4th Wisconsin Cavalry and spent the remainder of the war policing occupied territory in Louisiana, Mississippi, and Texas.
The 4th Wisconsin Cavalry returned to Madison June 3-18, 1866, almost a year after the war had ended. The regiment lost 431 men during service. Eleven officers and 106 enlisted men were killed. Three officers and 311 enlisted men died from disease.
[Source: Estabrook, Charles E, ed. Records and sketches of military organizations: population, legislation, election and other statistics relating to Wisconsin in the period of the Civil War. (Madison, 1914?)]