Historical Essay
1st Wisconsin Cavalry History
Wisconsin Civil War Regiment
Enlarge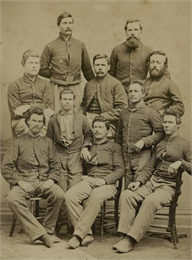 1st Wisconsin Cavalry, 1865
Group portrait made from a composite of 2 photoprints of Company I, first Wisconsin Volunteer Cavalry. Standing in back: M.P. Stone, Hiram Gee. Next row: unidentified, John A. Read, and Amandus Barnes. Next row: William Horton, Joseph Eschenbaugh. Front row: Henry P. O'Connor, Wilson and John Fransworth. Most of the men of the regiment were from Menomonie, Wisconsin. View the original source document: WHI 6387
The 1st Wisconsin Cavalry was organized at Camp Harvey in Kenosha between September 1, 1861, and February 2, 1862. It mustered in on March 10, 1862, and left for St. Louis, Missouri, on March 17, 1862, where it was stationed at Benton Barracks until April 28.
It traveled to Camp Girardeau, Missouri, on April 28, 1862, where it was attached to a series of Union cavalry brigades that fought in Kentucky, Georgia, Tennessee, and Alabama over the next four years. The regiment fought at the Battle of Chickamauga on September 19-20, 1863, in the Atlanta Campaign the following year, and helped capture Confederate president Jefferson Davis on May 10, 1865.
The 1st Cavalry lost a total of 401 men during service. Six officers and 67 enlisted men were killed. Seven officers and 321 enlisted men died from disease.
[Source: Estabrook, Charles E, ed. Records and sketches of military organizations: population, legislation, election and other statistics relating to Wisconsin in the period of the Civil War. (Madison, 1914?)]