Historical Essay
Civilian Conservation Corps (CCC) in Wisconsin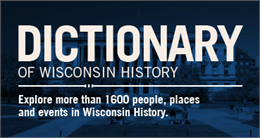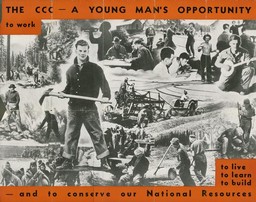 CCC recruitment poster, 1939 (WHi-5762)
This New Deal work program established by the federal government on May 5, 1933, employed more than two million men aged 18-25 to conserve natural resources. In Wisconsin, they cleaned forests of slashings left by lumber companies, planted new trees, controlled forest fires, and helped build state parks. The program officially ended on July 30, 1942, by which time most of its participants had enlisted to fight in World War Two or had found other wartime employments.
View a 1937 guide to CCC camps in Wisconsin and a 1939 recruitment poster elsewhere at wisconsinhistory.org
Rosholt, Malcolm. The Wisconsin Logging Book, 1839-1939. (Rosholt, Wis., 1980): 282-283.
Learn More
Civilian Conservation Corps (CCC) in Wisconsin
See more images, essays, newspapers and records about the Civilian Conservation Corps (CCC) in Wisconsin.

Dictionary of Wisconsin History
Explore more than 1,600 people, places and events in Wisconsin history.