Historical Essay
Fallen Timbers, Battle of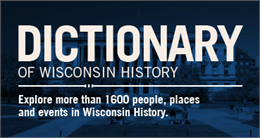 Battle between Indians led by the Shawnee chief Blue Jacket and United States troops on August 20, 1794; Ojibwe, Ottawa, Potawatomi, Shawnee, Delaware, and other warriors were defeated by U.S. troops led by General Anthony Wayne; the subsequent Treaty of Greenville compelled Indians to treat with the United States instead of Britain in the future. Located in Lucas County, Ohio near Maumee. Origin of name alludes to felled trees on the battle site that were uprooted by a tornado. Employment of metal detectors which turned up many musket balls in the clay soil, the site is now believed to be ¾ mile from the monument, which overlooks the bank of the Maumee [originally presumed to be] the site of the battle.
Wyman, Mark. The Wisconsin Frontier (Bloomington: Indiana University Press, 1998). Toledo Area Aboriginal Research Society.
Learn More
See more images, essays, newspapers and records about the Battle of Fallen Timbers.

Dictionary of Wisconsin History
Explore more than 1,600 people, places and events in Wisconsin history.