Historical Essay
36th Wisconsin Infantry History
Wisconsin Civil War Regiment
Enlarge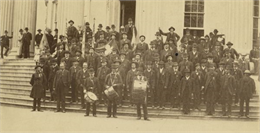 Regimental Reunion of the 36th Wisconsin Volunteer Infantry, 1878
Group portrait of veterans of the 36th Wisconsin Regiment posed on the steps of the Wisconsin State Capital in the late 1870s. View the original source document: WHI 75816
The 36th Wisconsin Infantry was organized at Camp Randall in Madison and mustered into service on March 23, 1864.
The regiment was ordered to Washington, D. C., on May 10, and then marched to Spotsylvania Court House, Virginia, remaining around the nation's capital for the duration of the war. Its brief service included countering demonstrations, service in the Appomattox campaign, the Battle of Hatcher's Run, and the surrender of General Lee and his army at Appomattox Court House.
The regiment moved to Louisville, Kentucky, on June 17, 1865, where it mustered out on July 12, 1865. The regiment lost 342 men during service. Seven officers and 150 enlisted men were killed. Three officers and 183 enlisted men died from disease.
[Source: Estabrook, Charles E, ed. Records and sketches of military organizations: population, legislation, election and other statistics relating to Wisconsin in the period of the Civil War. (Madison, 1914?)]