Historical Essay
10th Wisconsin Infantry History
Wisconsin Civil War Regiment
Enlarge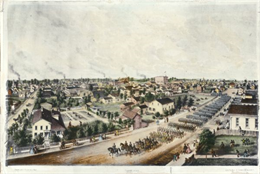 Civil War Regiment on Parade,
Birds-eye view of a Wisconsin Civil War regiment on parade in Fond du Lac, as drawn by Louis Kurz from the Marr Street Methodist Church. View the original source document: WHI 45176
The 10th Wisconsin Infantry was organized at Camp Holton in Milwaukee, and mustered into service for three years on October 1, 1861. It first traveled to Kentucky during November and early December.
During the war the 10th Wisconsin Infantry moved through Kentucky, Tennessee, Alabama, and Georgia. It participated in the battles of Perryville, the Atlanta Campaign, Chickamauga, the siege of Chattanooga, and the battle of Kennesaw Mountain.
It was mustered out on October 25, 1864, at which time re-enlisting veterans and new recruits were transferred to the 21st Wisconsin Infantry. The regiment lost 244 men during service. Five officers and 91 enlisted men were killed. One officer and 147 enlisted men died from disease.
[Source: Estabrook, Charles E, ed. Records and sketches of military organizations... (Madison, 1914?)]