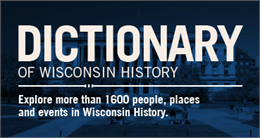 Fictitious animal that appeared in lumberjacks' "tall tales;"credited with great size and ferocity; it was described here in 1935 by folklorist Charles E. Brown.
The use of the word hodag for a mythical north woods animal occurs in print as early as 1870, in a history of Kent Co., Michigan. Between 1889 and 1892, several newspapers from New Hampshire to Arizona ran fictional stories about gullible people conned by a promoter who claimed to have a hodag, which he showed them for a fee; the idea of a hodag hoax was widespread by 1892.
On Oct. 28, 1893, Rhinelander lumberman Eugene Shepard wrote an illustrated column for the town's newspaper, The New North, describing how he had captured a hodag. Starting in January 1895, the Centralia Lumber Co. ran newspaper advertisments twice a month using Shepard's illustration and providing a new bit of information about the beast in each display ad.
In August of 1896, to spark interest in the first Oneida Co. Fair, Shepard agreed to exhibit a live hodag at the fair the following week. He and his friend Luke S. Kearney crafted one from sculpted wood, cowhide, and cattle horns, and displayed it in a darkened stall to which observers were only admitted momentarily, ostensibly for their own safety. The hoax was entirely successful: many people paid to see the beast, which was obscured by curtains, moved by hidden strings, and accompanied by frightening noises. The capture and display of a hodag was covered in a trade journal called The Timberman, and spread from there to newspapers as far away as Philadelphia over the next several months, often being reported as an authentic scientific discovery.
Shepard exhibited it at other fairs that fall, and at his Rhinelander home in subsequent years. He admitted it was a hoax sometime before 1900, after which tourists still wanted to see the hodag -- not because it was a newly discovered animal but because it had been such a successful hoax. Shepard's original hodag was destroyed in a fire early in the 20th century.
View more information on Shepard and his famous hoax in the Proceedigns of the Wisconsin Forest History Association, at Turning Points in Wisconsin History.
Kortenhof, Kurt. Long Live the Hodag! (Rhinelander, 1996)
Learn More
See more images, essays, newspapers and records about Hodag.

Dictionary of Wisconsin History
Explore more than 1,600 people, places and events in Wisconsin history.