Historical Essay
23rd Wisconsin Infantry History
Wisconsin Civil War Regiment
Enlarge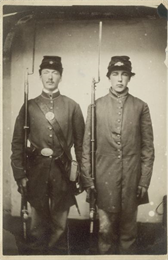 Herman and Lewis Gudmundsen, 1862 ca.
Three-quarter length portrait of Herman and Lewis Gudmundsen from Dunkirk, Wisconsin. They enlisted into Company A, 23rd Wisconsin Infantry, on August 15, 1862. Herman became a prisoner on October 13, 1863 and was mustered out of service on June 21, 1865. Lewis died from disease while in New Orleans on October 13, 1863. View the original source document: WHI 74253
The 23rd Wisconsin Infantry was organized at Camp Randall in Madison and mustered into service on August 30, 1862. The regiment left Wisconsin for Cincinnati, Ohio, on September 15, 1862. From there it traveled through Kentucky, Tennessee, Arkansas, Louisiana, Mississippi, Texas, and Alabama.
The 23rd Wisconsin Infantry participated in the battles of Port Gibson and Champion Hill, the Siege of Vicksburg, the Red River Campaign, the Western Louisiana Campaign, and the sieges of Spanish Fort and Fort Blakely in Alabama. The regiment concluded the war by occupying Mobile, Alabama, where it mustered out of service on July 4, 1865.
The regiment lost 308 men during service. One officer and 40 enlisted men were killed or mortally wounded. Five officers and 262 enlisted men died from disease.
[Source: Estabrook, Charles E, ed. Records and sketches of military organizations: population, legislation, election and other statistics relating to Wisconsin in the period of the Civil War. (Madison, 1914?)]