Historical Essay
Kohler Strike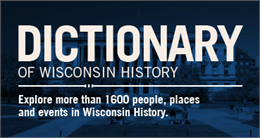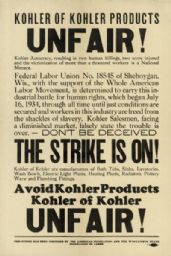 Kohler Strike Poster, 1934 (WHI-58466)
Used for two famous labor actions:
In 1934, employees of the Kohler Company attempted to organize a union over the objections of company president Walter J. Kohler, who had a different interpretation of a labor law that allowed employees to organize and bargain collectively. Kohler believed that his workers could organize but he did not think that any union should have exclusive bargaining power--a right claimed by the newly formed AFL Union of Kohler workers. After Kohler refused to bargain with them, the workers declared a general strike on July 16th. The relatively peaceful strike took a violent turn on July 27th when special deputies broke through the picket lines to escort a coal car that strikers had turned back. A battle ensued outside the plant that left two strikers dead and over 40 wounded. The next day, Governor Schmedeman called out the National Guard to restore order.
Twenty years later the longest major strike in U.S. labor history began at the Kohler Company on April 5, 1954. It was called by the United Auto Workers Local 833 after the company refused to recognize the union, despite a National Labor Relations Board (NLRB) election. Repeated findings by the courts and the NLRB concluded that Kohler had violated labor laws, but the second Kohler strike went on for nine years before the company was finally ordered to recognize the union.
Dictionary of Wisconsin Biography (Madison: State Historical Society of Wisconsin, 1960).
Learn More
See more images, essays, newspapers and records about the Kohler Strike.

Dictionary of Wisconsin History
Explore more than 1,600 people, places and events in Wisconsin history.