Historical Essay
16th Wisconsin Infantry History
Wisconsin Civil War Regiment
Enlarge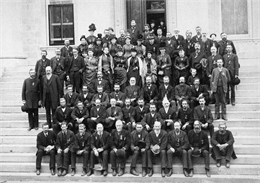 16th Wisconsin Volunteer Infantry, 1887
Group portrait of the 16th Wisconsin Infantry at the Wisconsin State Capitol, together with their wives and families, taken at their first reunion. Because this picture was photographed by H.H. Bennett, a veteran of the 12th Wisconsin Infantry, some members of that regiment may also be present. View the original source document: WHI 23206
The 16th Wisconsin Infantry was organized at Camp Randall in Madison and mustered into service on January 31, 1862. The regiment left Wisconsin for St. Louis, Missouri, on March 13, 1862, and then traveled promptly to Pittsburg Landing, Tennessee, March 14-20.
During its service it moved through Tennessee, Mississippi, Louisiana, Georgia, the Carolinas, and Washington D.C. It participated in the battles of Shiloh, Corinth, Jonesboro, Kennesaw Mountain, Atlanta, and Savannah, Sherman's March to the Sea, and the surrender of the Confederate army. On June 7, 1865, the regiment moved to Louisville, Kentucky, where it mustered out on July 12, 1865.
The regiment lost 399 men during service. Six officers and 141 enlisted men were killed. Four officers and 248 enlisted men died from disease.
[Source: Estabrook, Charles E, ed. Records and sketches of military organizations: population, legislation, election and other statistics relating to Wisconsin in the period of the Civil War. (Madison, 1914?)]