Historical Essay
29th Wisconsin Infantry History
Wisconsin Civil War Regiment
Enlarge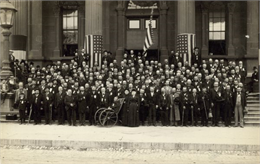 29th Wisconsin Infantry Reunion, 1889
Group photograph of members of the 29th Wisconsin Infantry at a reunion. View the original source document: WHI 43695
The 29th Wisconsin Infantry was organized at Camp Randall in Madison and mustered into service on September 27, 1862. It left Wisconsin for Cairo, Illinois, and then traveled to Helena, Arkansas, during November 2-7, 1862. It moved through Arkansas, Mississippi, Louisiana, Texas, Tennessee, and Alabama during the war.
The 29th Wisconsin Infantry participated in the battles of Port Gibson, Champions Hill, Sabine Cross Roads, the sieges of Vicksburg and Jackson, the Red River Campaign, the campaign against Mobile and its defenses, the siege of Spanish Fort and Fort Blakely, and the assault and capture of Fort Blakely, Alabama. The regiment mustered out of active service, June 22, 1865, in Shreveport, Louisiana, after having lost 322 men during service.
One officer and 76 enlisted men were killed or mortally wounded. Three officers and 242 enlisted men died from disease.
[Source: Estabrook, Charles E, ed. Records and sketches of military organizations: population, legislation, election and other statistics relating to Wisconsin in the period of the Civil War. (Madison, 1914?)]