Historical Essay
7th Wisconsin Infantry History
Wisconsin Civil War Regiment
Enlarge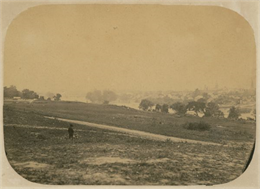 Camp of the 7th Wisconsin at Fredericksburg, 1862.
The 7th Wisconsin Volunteer Infantry Regiment camp outside of Fredericksburg on the east side of the Rappahannock. Fredericksburg and a pontoon bridge leading to it over the Rappahannock can be seen in the background. View the original source document: WHI 33527
The 7th Wisconsin Infantry was organized at Camp Randall in Madison, mustered into service on September 2, 1861, and left Wisconsin for Washington, D. C., on September 21, 1861.
From Washington it moved through Virginia, Maryland, Pennsylvania, and Kentucky, where it was mustered out of service, on June 16, 1865. It participated in the defense of Washington, D.C,, and fought at the Second Battle of Bull Run, Antietam, Fredericksburg, Chancellorsville, Gettysburg, the Battles of the Wilderness, and the surrender of Gen. Robert E. Lee and his army.
The regiment lost 424 men during service. Ten officers and 271 enlisted men were killed and 143 enlisted men died from disease.
[Source: Estabrook, Charles E, ed. Records and sketches of military organizations... (Madison, 1914?)]