Historical Essay
King, Gen. Rufus (1814-1876)
Wisconsin Civil War Officer, Newspaper Editor
b. New York, New York, January 26, 1814
d. New York, October 13, 1876
Gen. Rufus King brought together the regiments known as the Iron Brigade and commanded them at the start of the Civil War. He was also an influential Wisconsin newspaper editor and political leader before the war.
Enlarge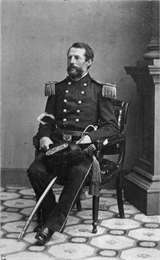 Rufus King
View the original source document: WHI 25585WHI 25585
Early Life
King was born in New York City and entered West Point in 1829, at age 15. After graduating in 1833, he served as an engineer in Virginia under Robert E. Lee and on the Great Lakes. He left the military to edit the Albany Evening Journal and served as Adjutant General of New York, 1840-1844.
King came to Milwaukee in September 1845 to edit the Milwaukee Sentinel. Under King's management, the Sentinel became a strong advocate first for the anti-slavery Whig Party and later for the Republicans. Besides editing the Sentinel until 1861, he served in the 1848 Constitutional Convention, was Milwaukee's superintendent of schools, and was one of the first regents of the University of Wisconsin.
Civil War Service
Before the war broke out in April 1861, President Lincoln appointed King as ambassador to the Vatican. He was in New York boarding the boat for Europe when he heard of the attack on Fort Sumter. King rushed back to Washington, D.C., and was commissioned a brigadier general, with responsibility over the first brigade of Wisconsin volunteers that could be raised. He assembled them outside Washington over the summer of 1861, when he became a close friend of President Lincoln and Secretary of State William Seward.
King's brigade was made up of the regiments that would later be called the Iron Brigade. He commanded it during the battles of Fredericksburg, South Mountain and Second Bull Run. The public blamed the series of Union defeats in 1862, in part, on his leadership. King was relieved of his command in 1863. His son later claimed that the charges were undeserved and that the dishonor ruined his health.
Later Life
After leaving the military King was reappointed ambassador to the Vatican for four years. In 1865 he was instrumental in capturing John Surratt, thought to be one of the conspirators in Lincoln's assassination who had escaped to Europe. After returning to the United States in 1867, King worked as a tax collector in New York City until his health failed and he became an invalid. He died in New York in 1876.
Links to Learn More
On page 987 of his book, "The Military History of Wisconsin" (Chicago, 1866)
[Source: Dictionary of Wisconsin Biography (Madison, 1965); King, Charles. "Rufus King: Soldier, Editor, and Statesman." Wisconsin Magazine of History, Vol. 4, no. 4 (1921); Dictionary of American Biography]