Historical Essay
Menomonie, Wisconsin - A Brief History
A Brief History of Menomonie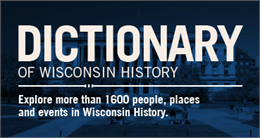 Menomonie is located in the Red Cedar Valley of northwestern Wisconsin in Dunn County. The area was already heavily populated with Sioux Indians when French fur traders began their exploration of northwestern Wisconsin in the late 18th century. In 1788, Jean Baptiste Rennault set up the first trading post near present-day Menomonie.
The first permanent white settlement was established in Menomonie in 1830. As the lumbering industry took off in northern Wisconsin, the Knapp, Stout, & Co., said to be the largest lumber firm in the world at one time, took total control of the settlements goods, services, politics, and currency. While this offered some security during times of panic and depression, workers were completely dependent on the company to survive. The lumber company closed in 1901.
When a post office was established in town, one of the lumber company founders suggested the name "Menominee" as the official town name. The name was derived from the Algonquin meaning, "people of the rice." To avoid confusion with other places in Wisconsin, the river running through town was changed from the Menomonee River to Red Cedar (the river forming the border between Wisconsin and the upper peninsula of Michigan was also called the Menomonee) and the double "e" at the end was changed to "ie." In 1882, Menomonie was officially incorporated as a city.
James H. Stout (1848-1910), one of the major investors in the Knapp, Stout, & Co., dreamt of establishing a new educational system based on the 'arts of the home and industry.' He also wanted to give all children—including African Americans—an opportunity for success. His initial school would later become the University of Wisconsin-Stout.
Learn More
Menomonie
[Source: WHS Library-Archives Staff, 2009]