Historical Essay
La Crosse, Wisconsin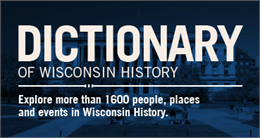 La Crosse is located on a prairie flanked by tall bluffs at the confluence of the Black and Mississippi rivers in La Crosse County. French explorers named the area for the game Indians played on the prairie.
The Ho-Chunk, Ojibwe, and Sioux frequented the La Crosse area more than 1,000 years before 19-year-old Nathan Myrick (1822-1903) arrived on November 8, 1841. Myrick was warmly greeted by the Ho-Chunk. He built a log cabin from which he hoped to launch a fur trading business.
The city grew rapidly in its first decade. A post office was established in 1844 and a general store opened in 1846. By 1853, the town's population had grown to 543. On March 14, 1856, the village was legally incorporated as a city and 50 years later, its massive Victorian city hall was constructed.
During the second half of the 19th century, La Crosse became an important center for steamboats, lumber mills, railroads, and brewing. In 1884, La Crosse produced more beer than any other city in the state. At the turn of the 20th century, three colleges and universities were established in the city.
Many important people have called La Crosse home, including Ho-Chunk Chief One-Eyed Decorah (ca. 1782-1864) and Wisconsin governors George W. Peck (1840-1916) and Patrick Lucey (1918-). The city is today home to one of Wisconsin's largest Hmong communities.
Learn More
La Crosse
[Source: WHS Library-Archives staff, 2009]