Historical Essay
Beloit, Wisconsin - A Brief History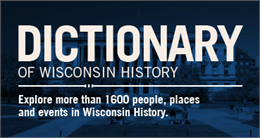 Beloit is located in southern Wisconsin at the junction of the Rock River and Turtle Creek near the Illinois border in Rock County. Several hundred Ho-Chunk Indians lived in the Beloit area in the early 19th century but abandoned their settlement in 1832 after the Black Hawk War. Private Abraham Lincoln was among the troops led by General Atkinson who camped in Beloit while pursuing Black Hawk.
French trapper Joseph Thiebault came to the area to trade with the Ho-Chunk in the 1820s, the first white man to settle in the area. New Englander Caleb Blodgett purchased Thiebault's land in 1836 and is credited as Beloit's first permanent settler.
The New England Immigrating Company, led by Dr. Horace White, arrived in 1836 and began buying land from Blodgett. Soon friends and family were moving to the area. Churches and schools were planned, mills were running using water from the Rock River, businesses took root in the village, and the cornerstone of Beloit College was laid in 1846.
The origin of the town's name is disputed, but it seems that the name Beloit came from a French word meaning "handsome ground." The spelling was fashioned after Detroit, a city the settlers saw as a symbol of trade and growth.
Beloit's early settlers were comprised of many European nationalities. Its location as a way-station on the Underground Railroad drew many African Americans to the area.
By the 1870s, Beloit had become a center for cigars in Wisconsin with more than 100 cigar makers. In 1904, the Warner Instrument Company began producing devices for World War I and for automobiles. Beloit also claims the invention of the speedometer by Arthur P. Warner (1870-1957).
Beloit's people are well-versed in the arts with The Wright Museum of Art, Logan Museum of Anthropology, and a symphonic orchestra. The city is also home to the Minnesota Twins' minor league baseball team, the Beloit Snappers.
Learn More
Beloit
[Source: WHS Library-Archives Staff, 2009]