Historical Essay
Green Bay, Wisconsin - A Brief History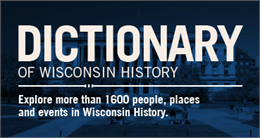 Green Bay is located at the mouth of the Fox River on Lake Michigan in Brown County. Ancestors of the Menominee, Ho-Chunk, and other native peoples inhabited the area for at least 10,000 years, drawn to the area's rich soil and abundant fish, wild rice, and waterfowl.
In 1634, French explorer Jean Nicolet (1598-1642) met the Ho-Chunk at nearby Red Banks, the earliest reliably documented contact between Europeans and Indians in Wisconsin. About 20 years later, fur traders Pierre Esprit Radisson (1636-1710) and Medart Grosellieres arrived, followed by missionaries Claude Allouez (1622-1689) and Jacques Marquette (1637-1675). The French named the area "La Baye," and it served as the main point of entry into the continent's interior.
The first permanent white settlers, the Charles de Langlade family, arrived around 1745. In 1763, the British ousted the French and took control of Green Bay until 1783, when the Americans won control in the American Revolution.
The Americans constructed Fort Howard in 1816 to guard the entrance to Wisconsin. With the fort, the community grew rapidly. Belgian farmers and Norwegian skilled laborers arrived in the 1850s.
In the 1870s, when the growth of railroads displaced steamboats as the main form of transportation to and from Green Bay, the city became a center of iron smelting, lumber milling, and paper products. Green Bay also became home to the state's first newspaper and was the first city to receive mail.
Today, Green Bay is best known as the home of the Green Bay Packers, a NFL franchise founded in 1919 that has won 12 NFL championships and four Super Bowls.
Learn More
Green Bay
[Source: WHS Library-Archives Staff, 2009]