Historical Essay
Wauwatosa, Wisconsin - A Brief History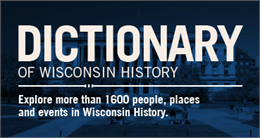 Wauwautosa is located west of Milwaukee in Milwaukee County. Surrounded by the lush and fertile river basin of the Menominee River, the Potawatomi and Menominee Indians lived in what now is Wauwatosa until the 1830s when the U.S. Government prepared for land sales.
Credited as the founder of Wauwatosa, Charles Hart built two mills along the river in 1835, icons that would first make the town known as Hart's Mills. Wauwatosa experienced explosive growth in the mid-19th century, made possible by transportation links to Milwaukee and the great influx of German and Irish settlers.
Incorporated in 1842, the town's original name was "Wauwautosa' but an error in the territorial legislature omitted the "u' in the second syllable. The meaning behind the Indian word is a mystery. It may be a combination of two similar pronunciations of words stemming from the Menominee and Potawatomi meaning "firefly" and "the lost brave."
A devastating fire on July 10, 1895, left many commercial businesses in ruin, but the disaster only spurred new growth in the city. With many 19th and 20th century Victorian-style buildings, Wauwatosa is known as the "city of homes." In 1931, Wauwatosa became the second city in the state to adopt a zoning ordinance.
A second explosion of growth occurred just after World War II. In 1952, Wauwatosa bought eight and a half square miles of the Township of Wauwatosa, nearly tripling its size.
A local hero, James Seton Gray, Jr., was born in 1914 and at the age of 16 was the youngest licensed pilot in the United States. He was Wisconsin's first Double Eagle scout and had a long and illustrious career as a captain in the US Navy before he retired in 1966.
Today, still valuing the "small town feel" and quaint residential suburbia, Wauwatosa can be thought of as an "edge city" with many parks, schools, and emerging businesses.
Learn More
See more images, essays, newspapers, museum objects and records about Wauwautosa.
[Source: WHS Library-Archives Staff, 2009]