Historical Essay
Manitowoc, Wisconsin - A Brief History
Manitowoc is located at the base of the Door Peninsula on Lake Michigan in Manitowoc County. Indians had occupied the area for centuries before the French laid claim to the land in the seventeenth century.

In 1779, Samuel Robertson became the first European to explore Manitowoc when he traveled from Milwaukee to meet a friend at a place called "Twin Rivers." Jacques Vieau (1757-1853) came to the area in 1795 looking for places to establish trading posts for the Northwestern Fur Company.
Enlarge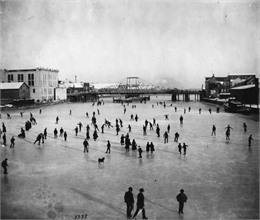 Ice Skating on the Manitowoc River, 1888
Manitowoc, Wisconsin. Elevated view of a large group of people skating on the frozen Manitowoc River between the 8th and 10th Street bridges. View the original source document: WHI 61768
Preparations for a permanent settlement at Manitowoc began in 1836 with the creation of a town plat. The first to settle were lumberman. Several mills were established along the Manitowoc River. Despite boasting a population of 2000 people by 1855, Manitowoc's neighbor to the north, Two Rivers, overshadowed the city's early years in industry and commerce.

The area's population fluctuated greatly over the next decades. When the railroad came, many settlers moved further west. A huge influx of Bohemians, Germans and Poles in the 1870s helped Manitowoc's population rebound.

Manitowoc's location on a natural harbor helped the city grow. Shipbuilding took root in the mid-19th century, mostly of various lake schooners and clippers. The establishment of the Manitowoc Dry Dock Company in 1902 led to the building of steel vessels and its famed submarine industry during World War II.

The city's Great Lakes legacy can still be felt at the Wisconsin Maritime Museum. Tourism has also grown as more people are drawn to the lakes, particularly to fish.
Learn More
See more images, essays, newspapers, museum objects and records about Manitowoc.
Source: WHS Library-Archives Staff, 2009