Historical Essay
General Motors plant, Janesville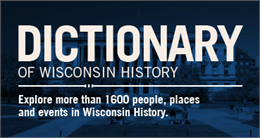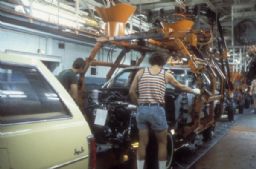 The Janesville GM assembly line (ca. 1980?) WHI-40731
In 1918 General Motors (which had been founded in 1908) decided to branch out into farm vehicles by buying the Samson Tractor Co. in Janesville. After enlarging the factory, the first GM tractor rolled off the line on May 1, 1919, and within 12 months production had picked up to nearly 150 tractors a day. Chevrolet cars began to be produced in 1923 and the plant expanded by building additions in 1924, 1926, 1927 and 1936.
When the Great Depression temporarily closed the plant in 1932, about 200 Janesville employees went to work at the 1933 Chicago World's Fair to assemble cars. Production of Chevrolets resumed in 1934 and continued until 1942 when, as part of the WWII war effort, the Janesville plant produced 105mm artillery shells (16 million of them). Chevrolet production resumed after the war and the factory continued to expand, with new additions in 1956, 1959 and the mid 1960s. In 1968 the Chevrolet and Fisher Body Divisions merged to form a single operation known as General Motors Assembly Division. Employment peaked at 7,100 in 1978; layoffs occured in 1974, 1980, 1981, 1998, and 2008, and strikes in 1969 and 2007.
In 1981 Chevrolet discontinued assembly of full-size autos and the plant closed for four months to retool for production of front-wheel drive cars, including the installation of robot-controlled welding equipment. From 1982 to 1990 the plant produced compact models, and after 1991 it manufactured large pickup trucks and sport utility vehicles. By August 2005 it had produced 16 million vehicles.
In June 2008 General Motors announced the plant would cease production within 19 months, eliminating all 2,390 jobs; the truck line to close in 2009 and SUV production to end in 2010 or sooner.
GM Web site; Rock River Review "Seventy-fifth Anniversary Commemorative Edition", 1983; Wis. State Journal, June 3, 2008.
Learn More
See more images, essays, newspapers and records about General Motors in Wisconsin.

Dictionary of Wisconsin History
Explore more than 1,600 people, places and events in Wisconsin history.