Historical Essay
Eau Claire, Wisconsin - A Brief History
Eau Claire is located at the confluence of the Eau Claire and Chippewa Rivers in Eau Claire County. Once teeming with buffalo and other game, the Eau Claire area was hotly contested among the Sioux and Ojibwe for generations.

English traveler Jonathan Carver (1710-1780) wrote the first description of the area in 1767. By 1784, fur traders LeDuc and Penasha had set up operations there. French fur traders continued to winter in the area into the first half of the 19th century.
Enlarge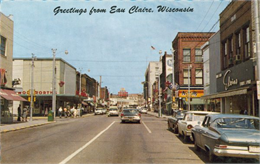 Downtown Eau Claire, 1961 ca.
Eau Claire, Wisconsin. View down street of the downtown business district, including Woolworth's (left side) and Astor's Rexall Drug Store (right side). View the original source document: WHI 8010
The first permanent white settlers did not arrive until 1845. By the early 1850s, about 100 people called Eau Claire home, most working at the local sawmill. Large numbers of German and Norwegian immigrants arrived in the 1860s.

After the Civil War, Wisconsin's lumber industry expanded rapidly and Eau Claire earned the nickname "Sawdust City" for its large number of sawmills. More than 75 sawmills and factories were making everything from furniture to electric motors by 1890.

The turn of the 20th century saw the collapse of the lumber industry. Education and tires came to fuel the local economy. The predecessor of today's University of Wisconsin-Eau Claire opened in 1916 and the city is today home to two other colleges, Chippewa Valley Technical College and Immanuel Lutheran College. In 1917, Raymond Gillette opened a rubber company that produced automobile tires. From 1917 to 1992 the tire plant, which was bought by U.S. Rubber in 1931 and renamed Uniroyal, was the city's largest employer and one of the world's leading producers of automobile tires.

Notable Eau Claire residents include John Menard, Jr., founder of Menard's hardware stores; Arthur Peabody (1858-1942), former state architect for Wisconsin; jazz pianist Geoffrey Keezer and blues guitarist Howard Luedtke.
Learn More
See more images, essays, newspapers, museum objects and records about Eau Claire.
Source: WHS Library-Archives Staff, 2009