Historical Essay
Neenah, Wisconsin - A Brief History
Enlarge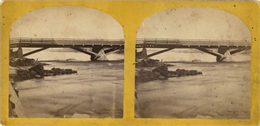 Cedar Street Bridge, 1870 ca.
Neenah, Wisconsin. Stereograph view of Cedar Street Bridge, or similar. Published by C.B. Manvill, Neenah, Wisconsin. View the original source document: WHI 41688
Neenah lies just south of Menasha on Lake Winnebago in Winnebago County. Like Menasha, a portion of Neenah is located on Doty Island, named for territorial governor James Duane Doty (1799-1865) who owned the island. Originally known as Winnebago Rapids, the name Neenah comes from the Ho-Chunk word for "running water" and was incorporated as the village name in 1856.

Neenah began as industrial and agricultural mission for the Menominee Indians in 1835. The power of the Fox River drew white settlers a few years later and led to the construction of water-powered flour and lumber mills.

By the 1870s, paper mills began to take over the industrial landscape, an industry that remains important to this day. The Kimberly-Clark Corporation was founded in Neenah in 1872 and quickly became Wisconsin's largest producer of paper products. Kimberly-Clark helped turn the Fox River Valley into the Midwest's paper manufacturing center and Wisconsin into one of the nation's leading producers of paper.
Learn More
See more images, essays, newspapers, museum objects and records about Neenah.
Source: WHS Library-Archives Staff, 2009