Historical Essay
Shawano, Wisconsin - A Brief History
Shawano is located on the Wolf River east of Green Bay in Shawano County. The city, county and Shawano Lake are all named for Menominee Chief Sawanoh, whose people lived on the lake.
Enlarge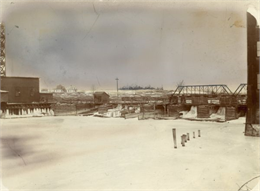 Wolf River Dam
Shawano, Wisconsin. Wolf River Dam with ice and snow. Houses are in the background. View the original source document: WHI 61831
Although Jesuit missionaries founded a mission known as St. Mark's at the junction of the Shawano Creek and the Wolf River in 1672, the first permanent white settler did not come until 1844. The year before, in 1843, Samuel Farnsworth explored the upper regions of the Wolf River looking for lumbering prospects. Excited by the vast stands of trees he saw, Farnsworth returned to his home in Neenah and convinced Charles Wescott to set up a sawmill in Shawano.

The town's early growth rested exclusively on the lumber industry. Waterways provided a quick form of transport for logs. In 1866, a military road connected Shawano to Fort Howard (Green Bay) allowing easier transport of goods and services.

Settlement was slow but steady. Until the Civil War, the area was mostly inhabited by English and Yankee settlers. Germans began coming in increasing numbers in the mid-1860s. Other Europeans and Scandinavians arrived over the next decades. They began to farm land left by loggers.

The 1880s proved a tumultuous decade for Shawano. A major flood destroyed many bridges and dams along the river, a significant economic setback. A misunderstanding between the loggers and Menominee Indians resulted in the calling of troops to prevent an uprising.

As lumbering began to decline in the early 20th century, Shawano transitioned to a more service and tourist-based economy. The city and surrounding areas, including Lake Shawano, are a popular summer destination.
Learn More
See more images, essays, newspapers, museum objects and records about Shawano.
Source: WHS Library-Archives Staff, 2009