Historical Essay
Baraboo, Wisconsin - A Brief History
Enlarge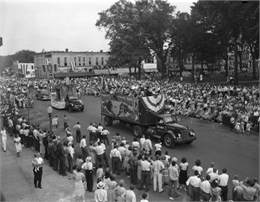 Sauk County's Wisconsin Centennial Parade, 1948
Baraboo, Wisconsin. Ringling Brothers, Barnum and Bailey Circus float in Sauk County's Wisconsin Centennial Parade on street downtown with a large crowd in the street and park. View the original source document: WHI 54133
Baraboo is located in Sauk County, just north of Devil's Lake in south central Wisconsin. First settled around 1838 by Abe Wood, Baraboo grew quickly enough to become the county seat in 1846.

Baraboo's proximity to both the Baraboo and Wisconsin rivers made it an attractive area for settlement and the development of industry, particularly sawmills. The Ringling Brothers called the town home, as did several other circus acts in the 19th century, earning the town the nickname "Circus City."

Baraboo was officially incorporated in 1882. Notable attractions in and around Baraboo include: Circus World Museum, Devil's Lake State Park, the Badger Army Ammunition Plant, the International Crane Foundation and the Al Ringling Theatre.
Learn More
See more images, essays, newspapers, museum objects and records about Baraboo.
Source: WHS Library-Archives Staff, 2009