Historical Essay
Kewaunee, Wisconsin - A Brief History
Kewaunee is located in Kewaunee County, on the western shore of Lake Michigan. The site was formerly occupied by the Potawatomi Indians, who had had a substantial village on the spot on the 17th century. Missionary and explorer Father Jacques Marquette (1637-1675) conducted mass there on November 1, 1674.
Enlarge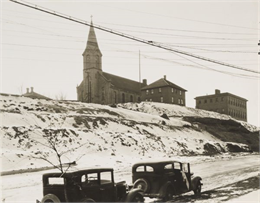 Winter Construction,1934
Kewaunee, Wisconsin. Terracing on Ellis Street during the winter. View the original source document: WHI 103656
A small gold rush brought fortune seekers to the Kewaunee area in 1836. Although no significant gold deposits were found, a sawmill was built. By 1852 Kewaunee was large enough to be named the county seat.

The village grew slowly over the next several decades as immigrant German and Czech came to farm the surrounding lands. Kewaunee's large and deep harbor made it a hub for Lake Michigan ferries. On November 27, 1892, the ferry Ann Arbor No. 1 made her maiden voyage filled with railroad cars full of flour. The "car ferry" (which later accommodated automobiles) ran until 1990.

Bohemian immigrant Joseph Svoboda became a well-known craftsman and woodworker. He set up shop in 1883 to make church furniture; after his death, his shop became a home furnishings company. Today, Kewaunee is best known for its commercial fishing and tourist industries.
Learn More
See more images, essays, newspapers, museum objects and records about Kewaunee.
Source: WHS Library-Archives Staff, 2009