Historical Essay
Platteville, Wisconsin - A Brief History
Enlarge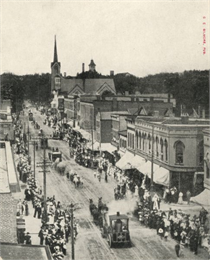 Main Street, 1907 ca.
A view looking down Main Street in Platteville, Wisconsin. View the original source document: WHI 43194
Platteville is located in southwestern Wisconsin, in Grant County. The discovery of lead in the area in the 1820s created a mining boom and, although most of the lead was exhausted by 1850, veins of zinc continued to be exploited into the 20th century.
The expanding economy led to the establishment of Platteville Academy in 1839 and Platteville Normal School, the state's first teacher's college, in 1866. In 1907, the Wisconsin Mining Trade School was founded for the study of mining engineering. The Mining Trade School and the Normal School merged in 1959 to form the predecessor the University of Wisconsin-Platteville. Specializing in engineering, UW-Platteville has helped to maintain the community since the end of the mining boom.
Learn More
See more images, essays, newspapers, museum objects and records about Platteville.
Source: WHS Library-Archives Staff, 2009