Historical Essay
Two Rivers, Wisconsin - A Brief History
Enlarge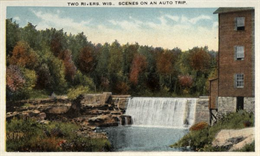 Dam in Two Rivers, Wisconsin, 1900 ca.
View of a dam surrounded by autumnal trees. View the original source document: WHI 37947
Two Rivers is located in Manitowoc County along the shore of Lake Michigan. The city was originally called "Neshotah" meaning "twin rivers" because of its harbor where the Mishicott and Neshoto rivers come together.

Ojibwe, Ottawa, Menominee, Potawatomi and Ho-Chunk Indians had long come to Two Rivers seasonally. In the 1840s, German and French-Canadian settlers began a sawmill, woodworking factories and commercial fishing operations. Bohemian and Polish immigrants arrived in the 1880s.

Two Rivers is well-known for its claim as the birthplace of the ice cream sundae. In 1881, Ed Berner's ice cream parlor began selling ice cream covered in chocolate sauce, but only on Sundays.

Today, Two Rivers is known for its thriving commercial fishing industry and manufacturing. Point Beach State Park, on the city's north side, draws thousands of visitors each year for camping, bicycling and hiking along Lake Michigan.
Learn More
See more images, essays, newspapers, museum objects and records about Two Rivers.
Source: WHS Library-Archives Staff, 2009