Historical Essay
Fort Atkinson, Wisconsin - A Brief History
Enlarge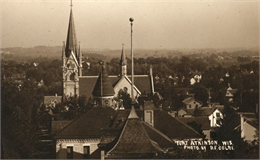 Fort Atkinson, 1915 ca.
Elevated view of Fort Atkinson. View the original source document: WHI 31197
Fort Atkinson is located along the Rock River in Jefferson County. The city is named for General Henry Atkinson (1782-1842), who built a temporary fort, Fort Koshkonong, here in 1832 during the Black Hawk War.

Dwight Foster became Fort Atkinson's first white settler when he selected the area for his home in 1836. The town saw significant growth throughout the mid-19th century with the arrival of the Chicago & Northwestern Railroad and the growth of local industry, particularly the North Western Manufacturing Company.

Notable attractions in town include the Hoard Historical Museum and the Fireside Dinner Theater.
Additional attractions include:
A Panther Intaglio Effigy Mound ground depression, the only remaining reverse mound in Wisconsin.

Mounds built by the Native Americans of the late Woodland period can be found in the Fort Atkinson area.
The Hoard's Dairyman (a journal devoted to dairy farming) was started in Fort Atkinson in 1885. It still exists today and has grown to be the dairy industry's leading dairy publication.
Famed Objectivist poet Lorine Niedecker hails from nearby Blackhawk Island.
Learn More
See more images, essays, newspapers, museum objects and records about Fort Atkinson.
Source: WHS Library-Archives Staff, 2009 and Fort Atkinson Chamber of Commerce, 2022