Historical Essay
Sturgeon Bay, Wisconsin
History of Sturgeon Bay, Wisconsin
Enlarge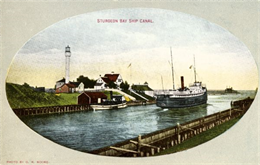 Canal, Sturgeon Bay, Wisconsin, 1915 ca.
View of the Sturgeon Bay ship canal. View the original source document: WHI 38445
The city of Sturgeon Bay is located at the midpoint of the 90-mile long Door Peninsula in Door County. Named for the long, fish-shaped bay it borders, Sturgeon Bay was settled in 1850 when the first house was built along the waterfront. The town developed quickly after that, home to more than 200 residents and three sawmills by 1862.

Later in the 19th century, Sturgeon Bay became a center of stone quarrying, with five quarries shipping limestone to many ports throughout the region for harbor improvements. In the 1880s, a canal was completed linking Sturgeon Bay to Lake Michigan, providing a safe pass for ships that had previously been forced to travel through the dangerous Ports des Morts (Death's Door) Strait. The new passage quickly attracted thousands of ships and Sturgeon Bay became a center of maritime traffic and shipbuilding.

Incorporated in 1883, Sturgeon Bay is the site of the Sturgeon Bay Bascule Bridge, which connects upper and lower Door County.
Learn More
See more images, essays, newspapers, museum objects and records about Sturgeon Bay.
Source: WHS Library-Archives Staff, 2009