Historical Essay
De Pere, Wisconsin - A Brief History
Enlarge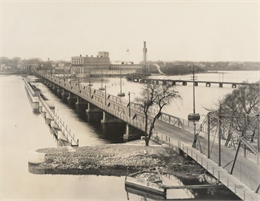 De Pere Bridge, 1930
View of the bridge over the Fox river, and the Nicolet Paper Company in the distance. View the original source document: WHI 30407
De Pere, a suburb of Green Bay, is located in Brown County. In 1671, Jesuit missionary Father Claude-Jean Allouez (1622-1689) set up a mission, Rapides Des Pères (Rapids of the Fathers), five miles west of Green Bay on the bank of the Fox River to convert members of the Ho-Chunk and Potawatomi tribes. French fur traders controlled the region until they were defeated by the British in 1763, and later the British by the Americans in 1783.

The Oneida Indians came to De Pere from New York in 1821 but were forced west by white settlement by 1827. The area later became a center of Danish settlement.

By 1850, dams on the Fox River powered three sawmills, two lathe mills and one flour mill. Residents grew wheat, corn, oats, barley, potatoes and rye in the surrounding agricultural fields. The forests of ash, hickory, white pine, elm, oak and maple in the area were processed into lumber and paper. Railroads and Lake Michigan steamers exported these products.

St. Norbert's College opened in 1898 to train young priests, but is today a Catholic liberal arts college. The Green Bay Packers use the school fields during their training camp.
Learn More
See more images, essays, newspapers, museum objects and records about De Pere.
Source: WHS Library-Archives Staff, 2009