Historical Essay
West Bend, Wisconsin - A Brief History
Enlarge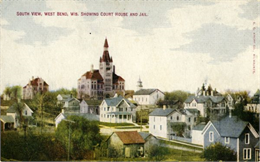 West Bend, 1910 ca.
View of West Bend featuring the Washington County Court House in the distance. View the original source document: WHI 35670
West Bend is located northwest of Milwaukee in Washington County. Surveyors came to the area in the 1840s seeking a halfway point to accommodate travelers on the road between Fond du Lac and Milwaukee. On November 17, 1845, they decided that the ideal spot was on the westward bend of the Milwaukee River, hence the name of the town, West Bend.

Besides becoming a popular rest stop, West Bend was attractive to settlers for its location on the Milwaukee River. The river soon powered saw and gristmills. The arrival of the railroad in 1873 brought more settlers and more industry.

Bernhardt C. Ziegler founded the West Bend Aluminum Company (later West Bend Company) in 1911, which remained in town until 2003. Amity Leather, founded in 1915 by Robert H. Rolfs, was once the world's largest manufacturer of leather billfolds. West Bend is also home to the Gehl Company, manufacturer of compact construction and agricultural equipment.
Learn More
See more images, essays, newspapers, museum objects and records about West Bend.
Source: WHS Library-Archives Staff, 2009