Historical Essay
Appleton, Wisconsin
Outagamie County
Enlarge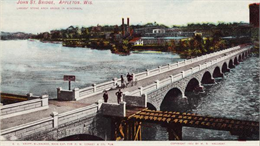 View with John Street Bridge, 1906 ca.
Caption on postcard: John St. Bridge, Appleton, Wisconsin. "Largest stone arch bridge in Wisconsin." View the original source document: WHI 28734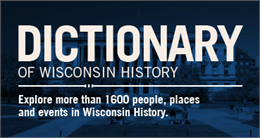 Appleton is located at the northernmost point of Lake Winnebago in Outagamie County. The Fox River Valley Indians had lived in the area for hundreds of years when the white fur traders began to settle in Appleton. In 1835, Hippolyte "Paul" Grignon built a home for his family called the White Heron that also served as an inn and trading post.
Education
The Lawrence Institute, now Lawrence University, was chartered in 1847 with the financial backing of Amos Lawrence. The St. Mary Catholic Church opened the community's first parochial school in 1864. The first free public school was established in 1850.

Germans, Dutch and Poles were some of the first immigrants to come to Appleton. Appleton has become home to a large population of Hmong, Hispanics and Blacks in recent years. Oneida Indians also live in the Oneida reservation just north of town.
Paper
The paper industry drove Appleton's economy. The first paper mill was built in 1853. To provide electricity to the industry, the nation's first hydro-electric central station began operation in Appleton on September 30, 1882. In 1886, Appleton had the nation's first commercially successful electric streetcar company.

Famous Appleton residents have included actor Willem Dafoe, writer Edna Ferber (1885-1968), magician Harry Houdini (1874-1926) and U.S. Senator Joseph McCarthy (1908-1957).
Learn More
See more images, essays, newspapers, museum objects and records about Appleton.
Dictionary of Wisconsin History
Explore more than 1,600 people, places and events in Wisconsin history.
Source: WHS Library-Archives Staff, 2009