Historical Essay
Antigo, Wisconsin - A Brief History
Antigo is located in northeast Wisconsin and is the County Seat of Langlade County. Founded in 1878 by Civil War veterans Francis Deleglise and George Eckart, Antigo witnessed substantial growth throughout the mid-to-late 19th century due to the burgeoning lumber industry in the region.
Enlarge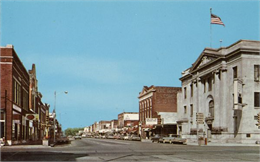 Downtown Antigo
Color postcard of downtown Antigo, at the intersection of 5th Avenue and Superior Street looking north. View the original source document: WHI 84439
Besides lumber, Antigo also boasted rich soils helping to generate a prosperous farming community. Antigo became a hub of the Chicago and Northwestern Railroad around the turn of the 20th century serving as an important transport point.

With the decline of the timber industry, farmers increasingly turned to dairying. Under the direction of agricultural agent E.G. Swovadam, several organizations were established that helped Antigo become Wisconsin's leading producer of Italian cheese.

Incorporated in 1885, Antigo is commonly referred to as "The Gateway to Wisconsin's Northwoods."
Learn More
See more images, essays, newspapers, museum objects and records about Antigo.
Source: WHS Library-Archives Staff, 2009