Historical Essay
Beaver Dam, Wisconsin - A Brief History
Enlarge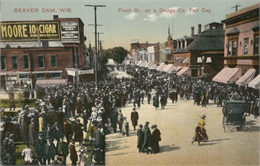 Crowds on Front Street in Beaver Dam, 1910 ca.
Crowds on Front Street during Dodge County Fair day, circa 1910-1915. View the original source document: WHI 31530
Beaver Dam is located between Madison and Fond du Lac in Dodge County. As the name suggests, the site of the town is of an old beaver dam and many beavers lived in the stream that flows into Beaver Dam River.

Thomas Mackie and his son-in-law, Joseph Goetschius, were the first to make Beaver Dam their home after making a few trips to the area in 1841. And in two short years, nearly 100 people resided there. As the first cabins were being built, their neighbors were the Sioux, Chippewa, Kickapoo, Sauk, Fox and Ho-Chunk Indians. These tribes lived, hunted and fished in the area for centuries, utilizing the natural spring water found in the "Sacred Springs," found in current-day Swan Park.
English, Irish, Dutch, Scotch, Welsh and German immigrants came to the growing city as the 19th century progressed. The Milwaukee Railroad came to town in 1856, encouraging settlement.

The Dodge County Fair moved to Beaver Dam in 1886 and was an immediate hit. Claiming it was the "World's Greatest County Fair," it offered the finest entertainment with balloon rides, an observation tower, horse races and a Ferris wheel.

At the turn of the century, the population grew rapidly and many great enhancements were made to the city and industries. The Malleable Iron Range Company was founded in 1903 and their 430,000 sq. foot complex employed 800 citizens. Notable Beaver Dam natives include movie stars Brian Donlevy (1889-1972) and Fred MacMurray (1908-1991).
Learn More
See more images, essays, newspapers, museum objects and records about Beaver Dam.
Source: WHS Library-Archives Staff, 2009