Historical Essay
Waukesha, Wisconsin - A Brief History
Enlarge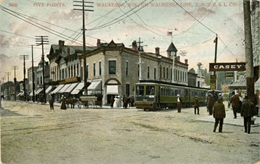 Five Points, Waukesha, 1907 ca.
View of downtown Waukesha at Five Points. View the original source document: WHI 37065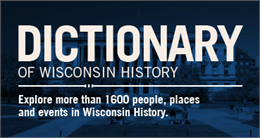 Waukesha is located 18 miles west of Milwaukee on the Fox River in Waukesha County. Waukesha, or Prairieville as it was known until becoming the seat of Waukesha County, was settled by Morris D. Cutler in 1834. At the time, the Potawatomi, Menomonee, and Ho-Chunk Indians grew corn, pumpkins, berries, nuts and hunted wild game in the area until they were removed in 1835.

White settlers soon set up grain, lumber and flour mills to stimulate growth. In the late 19th century, Waukesha became famous for its healing waters. People came from far and wide to heal and relax in the resort town. After the era of healing waters ended, Waukesha became a major manufacturer of water, beer, soda, dairy products, iron, and steel. The products would be shipped to Milwaukee and other port cities on Lake Michigan on Waukesha's excellent road system.

English, Scottish, Irish and German immigrants made Waukesha their home. Notable residents include Wisconsin Governors William A. Barstow (1813-1865) and Alexander Randall (1819-1872). Waukesha is also home to Carroll College, which became Wisconsin's first college when the territorial legislature chartered it in 1846.

"The American Freeman," a newspaper for the abolition of slavery, was the first newspaper published in Waukesha in 1844. The Waukesha Freeman was also a prominent abolitionist newspaper.
Learn More
See more images, essays, newspapers, museum objects and records about Waukesha.
Dictionary of Wisconsin History
Explore more than 1,600 people, places and events in Wisconsin history.
Source: WHS Library-Archives Staff, 2009