Historical Essay
Peshtigo, Wisconsin - A Brief History
Enlarge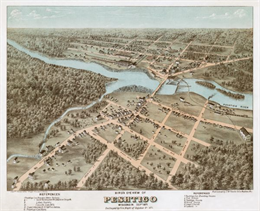 Bird's-Eye View of Peshtigo, 1871
Bird's-eye view of Peshtigo, before it was destroyed by fire on the night of October 8, 1871. View the original source document: WHI 2209
Peshtigo is located just off the western shore of Green Bay in Marinette County. Home to the Menominee and Ho-Chunk Indians, French explorers came into the area in the late 1780s, looking to establish fur trading posts.

Nearly fifty years later, in 1838, Erastus Bailey and David Jones built the first sawmill at Peshtigo, and from that day on, Peshtigo was closely identified with the lumber industry. Backed by lumbering, shipping and railroad interests, it became a prosperous town during the mid-19th century. Norwegian, Swedish, English, Yankee, German, Polish, Irish, Bohemian and French Canadian immigrants all settled in the city.

Peshtigo is best remembered for the disastrous Peshtigo Fire of October 8, 1871. Sparse rainfall during the summer and autumn had left the surrounding forests extremely dry. When a wildfire sprung up, high winds swept it not just through the town but across all the surrounding counties. At least 1,300 people lost their lives and 7,500 were left homeless; Peshtigo was virtually destroyed. Though less famous than the well-known Chicago Fire, the Peshtigo fire remains the most destructive forest fire in American history.

Today, Peshtigo is a thriving community centered around a descendant of the 19th-century lumber industry, Badger Paper Mills, Inc., a leader in retail, commercial and office paper products.
Learn More
See more images, essays, newspapers, museum objects and records about Peshtigo.
Source: WHS Library-Archives Staff, 2009