Historical Essay
Eagle Diamond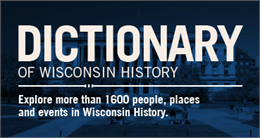 A gemstone, variously reported as 15.37 and 16.25 carats and described as "a dodecahedral form with triangular and circular markings on the faces," found in the town of Eagle, Waukesha Co., in 1876.
While digging a well on the site where the town's water tower now (2007) stands, workers unearthed a brilliant, 12-sided stone "of a warm sunny color." It was picked up by resident Clarissa Woods, who thought it might be valuable. She took it to Samuel Boynton, a jeweler in Milwaukee, who suspected it was a topaz, bought it for $1.00, and took it to Chicago for analysis. The pebble was actually the largest diamond found in the U.S. up to that time, prompting Mrs. Woods to sue Boynton (unsuccessfully). Boynton sold it for $850 to Tiffany's in New York City, and then quietly leased the hillside where it had been found. Under the pretense of chicken farming, he erected privacy fences and started to systematically mine the hillside. After several years of fruitless digging, he salted the location with inferior gems to attract investors for his Eagle Diamond-Mining Co. There was even talk of renaming the village Diamond Town, until no more gems were actually found. [1]
Meanwhile the Eagle Diamond remained at Tiffany's. In 1889, Tiffany's curator of precious stones, G.F. Kunz, organized an exhibit called "Gems and Precious Stones from North America" for the Exposition Universelle in Paris. The collection of 382 items won a gold medal, and J.P. Morgan bought it for the American Museum of Natural History. The Eagle Diamond was exhibited at the Museum until 1964 when a thief called "Murph the Surf" stole hundreds of gems in a daring midnight robbery. Though nearly all the stolen jewels were eventually recovered, the Eagle Diamond was never found, and is presumed to have been cut into smaller stones and dispersed. [2]
[1] - "Diamonds found in Wisconsin." Milwaukee Sunday Journal, May 01, 1927. Eagle Businessman's Assn. Dr Bill Cordua, Professor of Geology and Mineralogy, UW-River Falls.
[2] - Chicago Tribune, July 9, 1884, and June 30, 1895. New York Times, Feb. 1, 1902. American Museum of Natural History (http://research.amnh.org/earthplan/Collections/Minerals)
Learn More
See more images, essays, newspapers and records about the Eagle Diamond.

Dictionary of Wisconsin History
Explore more than 1,600 people, places and events in Wisconsin history.