Historical Essay
Greenfield, Wisconsin - A Brief History
Enlarge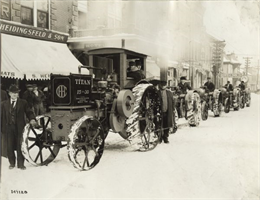 Titan 15-30 Tractor on Snowy Downtown Street, 1917 ca.
Several tractors, including a Titan 15-30, lined up along a curb near storefronts on a snow-covered Washington Street in downtown Greenfield. View the original source document: WHI 72791
Greenfield is located west of Milwaukee in Milwaukee County. Originally known as Kinnickinnic, postmaster Olney Harrington suggested the alternative name Greenfield in 1839. The citizens liked it so much the name was officially changed in 1841. Although Milwaukee is considered strongly German, the area's first German settler, William Strothmann, actually settled in Greenfield.

Threatened by annexation to Milwaukee beginning in 1902, many of Greenfield's surrounding towns grabbed portions of Greenfield on their way to incorporation. Greenfield was the last of the suburbs to officially become a city in 1957, however, at one-third of its original size.
Learn More
See more images, essays, newspapers, museum objects and records about Greenfield.
Source: WHS Library-Archives Staff, 2009