Historical Essay
Middleton, Wisconsin - A Brief History
Enlarge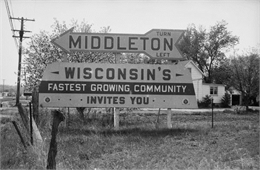 Middleton Village Sign, 1958
A sign reading "Middleton, Wisconsin's Fastest Growing Community Invites You". View the original source document: WHI 80166
Middleton is located two miles west of Madison in Dane County. Middleton consists of a succession of hills, valleys, prairies and a 600-acre mud lake that was drained.

In 1832, Michel St. Cyr established a trading post on the northwest shore of Lake Mendota, in what is now Mendota County Park. The vicinity had long been used as a gathering place for Ho-Chunk and other Indian nations, and on it was platted an imaginary "City of Four Lakes" during debates about the site of Wisconsin's capital in the 1830s.

Middleton was first settled by English settlers in the 1840s. It was initially called Peatville for the large quantities of peat extracted from its soil. The village was renamed Middleton when it was separated from the town of Madison in 1848, a name suggested by Henry Barnes, a native of Vermont. Germans later followed the English settlers.

The land around Middleton produced vast quantities of wheat, which was stored in large grain elevators and shipped by rail when the railroad came through in 1856. A limestone cave running thousands of feet into Middleton Township was discovered in 1842. The community remained predominantly agricultural, with dairy replacing wheat at the end of the 19th century, until the late 20th century, when Middleton gradually evolved into a suburb of Madison.
Learn More
See more images, essays, newspapers, museum objects and records about Middleton.
Source: WHS Library-Archives Staff, 2009