Historical Essay
Lake Delton, Wisconsin - A Brief History
Enlarge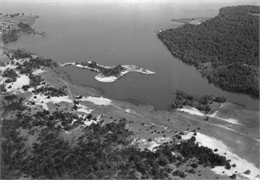 Aerial View of Lake Delton, 1930 ca.
Aerial view of Lake Delton, the Wisconsin River, and the surrounding countryside. View the original source document: WHI 35096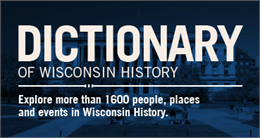 Lake Delton is located in Sauk County. Originally named Norris after the surveyor who laid it out in 1849, the name was soon changed to Delton, a contraction of "Dell Town" for its location near the Wisconsin Dells.

Over the next decade, its inhabitants became well known for making wagons, buggies, cast-iron plows and other implements. These were all hand-made in small shops and the label "Manufactured in Delton, Wis." came to stand for high-quality craftsmanship. Soon after the Civil War, however, wagons and agricultural equipment began to be made more cheaply in larger factories elsewhere.

When the railroad by-passed Delton, business owners followed it and the village withered. A visitor in 1924 described deserted Delton as "only a name, utterly meaningless to the thousands who may pass through it during the [tourist] season."
But the very next year, an imaginative Chicago millionaire named William J. Newman decided to turn Delton into an ultra-modern vacation resort. He invested more than $1 million in improvements that included the Dell View Hotel, dammed Dell Creek, and on July 27, 1927, let the pretty little valley fill up with water. The Great Depression nearly killed the resort town, but when the economy revived after World War II, the Dells turned into the state's premier tourist destination and Lake Delton became one of its chief attractions.
Enlarge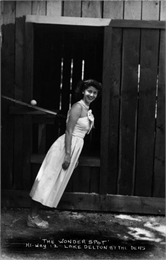 The Wonder Spot
A woman demonstrates the visual characteristics apparent at the Wonder Spot. View the original source document: WHI 79813
In 1953, Tommy Bartlett (1914-1998) established his Water Ski and Jumping Boat Thrill Show at Lake Delton, and over the next half century, more than 20 million people came to the Dells to see it.

On June 9, 2008, Lake Delton disappeared after a weekend of torrential rains. Dell Creek and its tributaries filled with so much water that a 400-foot section of William Newman's 1927 earthen dike collapsed. Once breached by the swollen creek, its banks melted away and were swept downstream, carrying several houses with it. The lake has since been rebuilt and refilled.
Learn More
See more images, essays, newspapers, museum objects and records about Lake Delton.
Dictionary of Wisconsin History
Explore more than 1,600 people, places and events in Wisconsin history.
Source: WHS Library-Archives Staff, 2009