Historical Essay
Kenosha, Wisconsin - A Brief History
Kenosha is located in Kenosha County in southeastern Wisconsin at the mouth of the Pike River on the shore of Lake Michigan. The Potawatomi Indians had lived in the area for centuries before white settlement, but where forced to cede their land to the U.S. government in 1833. The many burial mounds that remain serve as reminders of the region's past.
Enlarge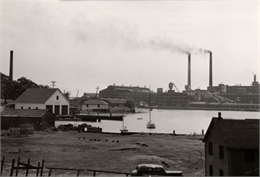 Kenosha Harbor, 1940 ca.
Kenosha, Wisconson. A view across Kenosha harbor at the large Simmons Company factory building. View the original source document: WHI 35381
In 1835, John Bullen established a settlement at modern-day Kenosha at the behest of the New York-based Western Emigration Company. The community was originally called Southport, but became Kenosha in 1850 when it broke off from Racine County. The first mayor was Michael Frank, who had also served as a newspaper editor, territorial legislator and the architect of Wisconsin's free public school systems.

Kenosha's advantageous position on Lake Michigan, with its harbor, connection to plank roads ,and location along rail lines connecting Green Bay, Milwaukee and Chicago nourished manufacturing in the city in the 19th century.

At the turn of the 20th century, Italian, Danish, German, Polish and Irish immigrants established solid communities in Kenosha. Their work in local factories made the city well known for the production of brass and iron beds and other metal furniture, leather, wagons and automobiles, which served as a mainstay of the local economy through much of the 20th century.

Notable Kenosha residents include 19th century governors William Barstow (1853-1855) and Louis P. Harvey (1862), U.S. Congressmen (1849-1853) and Senator Charles Durkee (1855-1861) and Christopher Latham Sholes (1816-1867), inventor of the typewriter. The last public execution in Wisconsin also occurred in Kenosha when John McCaffery was hanged for drowning his wife in 1851; his execution ignited the successful movement to outlaw capital punishment in the state.
Learn More
See more images, essays, newspapers, museum objects and records about Kenosha.
Source: WHS Library-Archives Staff, 2009