Historical Essay
Chattanooga, Battle of
Civil War Battle Summary
Enlarge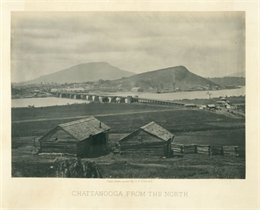 Chattanooga from the North, 1866.
A photo of Chattanooga, TN, taken by George N. Barnard as he accompanied General Sherman on his Atlanta Campaign. View the original source document: WHI 79118
Enlarge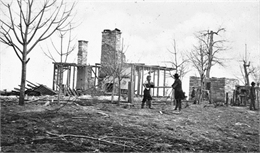 Chattanooga, 1863.
Men clear the ruins of a home after the Battle Above the Clouds. View the original source document: WHI 74487
Date(s): November 23-25, 1863
Location: Chattanooga, Tennessee (Google Map)
Other name(s): none
Campaign: Chattanooga-Ringgold Campaign (November 1863)
Outcome: Union victory
Summary
Union forces broke the Confederate Siege of Chattanooga on November 25, 1863, opening the doorway to invade the Deep South. The city became the supply and logistics base for taking Atlanta, Georgia, in 1864.
In late September 1863, Union troops had retreated across state lines to Chattanooga, Tennessee, after their defeat at the Battle of Chickamauga, Georgia. For the next eight weeks they were pinned inside the city, which was a vital Confederate rail and shipping hub. Union reinforcements arrived on November 20 and, after two days of heavy rain, the Battle of Chattanooga began.
By the afternoon on November 23, Union forces had captured high ground at Orchard Knob and used the hill as their headquarters. The next day they drove Confederate troops from Lookout Mountain, south of the city. Fog covered the slopes during much of this fight, giving it the nickname, "The Battle above the Clouds."
On November 25, Union troops attacked Confederates entrenched on Missionary Ridge, high ground east of the city. In one of the most dramatic engagements of the war, a swarm of soldiers spontaneously charged uphill and through enemy lines. As night fell, they pursued retreating Confederate troops, capturing hundreds after a brief fight at Rossville Gap, on the south end of Missionary Ridge. When Confederate forces withdrew on November 27, 1863, Union leaders made Chattanooga the planning base for the Battle of Atlanta and for moving east through the Confederacy during 1864.
Wisconsin's Role
Fourteen Wisconsin units were active in and around Chattanooga: the 1st, 10th, 15th, 18th, 21st, 24th, and 26th Wisconsin Infantry regiments; the 3rd, 5th, 6th, 8th, 10th, and 12th Wisconsin Light Artillery batteries, and the 1st Wisconsin Heavy Artillery.
Links to Learn More
[Source: Report on the Nation's Civil War Battlefields (Washington, 1993); Estabrook, C. Records and Sketches of Military Organizations (Madison, 1914); Love, W. Wisconsin in the War of the Rebellion (Madison, 1866).]