Historical Essay
Perryville, Battle of
Civil War Battle Summary
Enlarge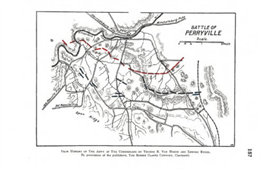 Battle of Perryville, 1862
A map of troop movements as of 12:00 pm on October 8, 1862 at the Battle of Perryville, Kentucky. Confederate troop positions are marked in red, while Union troops are depcited in blue. View the source document.
Date(s): October 8, 1862
Location: Perryville, Kentucky (Google Map)
Other name(s): Chaplin Hills
Campaign: Confederate Heartland Offensive (June-October 1862)
Outcome: Union victory
Summary
The Union victory at Perryville on October 8, 1862, gave it control over Kentucky, a critical border state, for the remainder of the war.
During the summer of 1862, Confederate troops invaded neutral Kentucky to obtain supplies and claim the state for the Confederacy. Union leaders then raced across the border from Tennessee to stop them. The two sides met in the Chaplin Hills, west of the small town of Perryville, Kentucky, on October 8, 1862.
Perryville is considered one of the bloodiest battles of the war. The Union fielded approximately 37,000 troops and the Confederates only about 17,000. After two days of brutal combat, the Confederates retreated. The Union controlled Kentucky for the rest of the war. More than 7,500 men were killed, wounded, or taken prisoner.
Wisconsin's Role
Wisconsin's 1st, 10th, 15th, 21st and 24th Wisconsin Infantry regiments and 3rd, 5th and 8th Wisconsin Light Artillery batteries took part in the Battle of Perryville.
The 1st Wisconsin Infantry was under fire much of the day and repulsed several Confederate charges. Fighting nearby was the 21st Wisconsin Infantry. It had been newly recruited with only four days of training. About 179 of its men were killed, wounded or missing. The 10th Wisconsin Infantry fought from mid-morning until nightfall. When their ammunition ran out, they replenished it by lifting the cartridge boxes off the dead and wounded. Of the artillery present, only the 5th Wisconsin Light Artillery battery was engaged in combat. The 3rd and 8th batteries were held in reserve.
Links to Learn More
[Source: Report on the Nation's Civil War Battlefields (Washington, 1993); Estabrook, C. Records and Sketches of Military Organizations (Madison, 1914); Love, W. Wisconsin in the War of the Rebellion (Madison, 1866).]